Dog-friendly holiday accommodation in Wigtown, South West Scotland
******* TWO SEPTEMBER WEEKS STILL AVAILABLE! *******
Couthie Brae is a great place to relax, close to local amenities but set in its own large, quite wild garden, with space to wind down and play. Surrounded by beautiful countryside, coastline and picturesque harbours, Wigtown, Scotland's Book Town, is situated on the Machars peninsula in South West Scotland and in an ideal position for exploring the area's beauty and history, with loads of family-friendly interest and activities close at hand. Wigtown is a small country town with a good supermarket, a cash machine, and, as its title would indicate, a good range of book shops. There are several nice gift shops to browse, plus local cafes, pubs and restaurants providing a variety of options for visitors, from fine dining to the highly recommended fish and chip van which visits Wigtown on a Tuesday evening!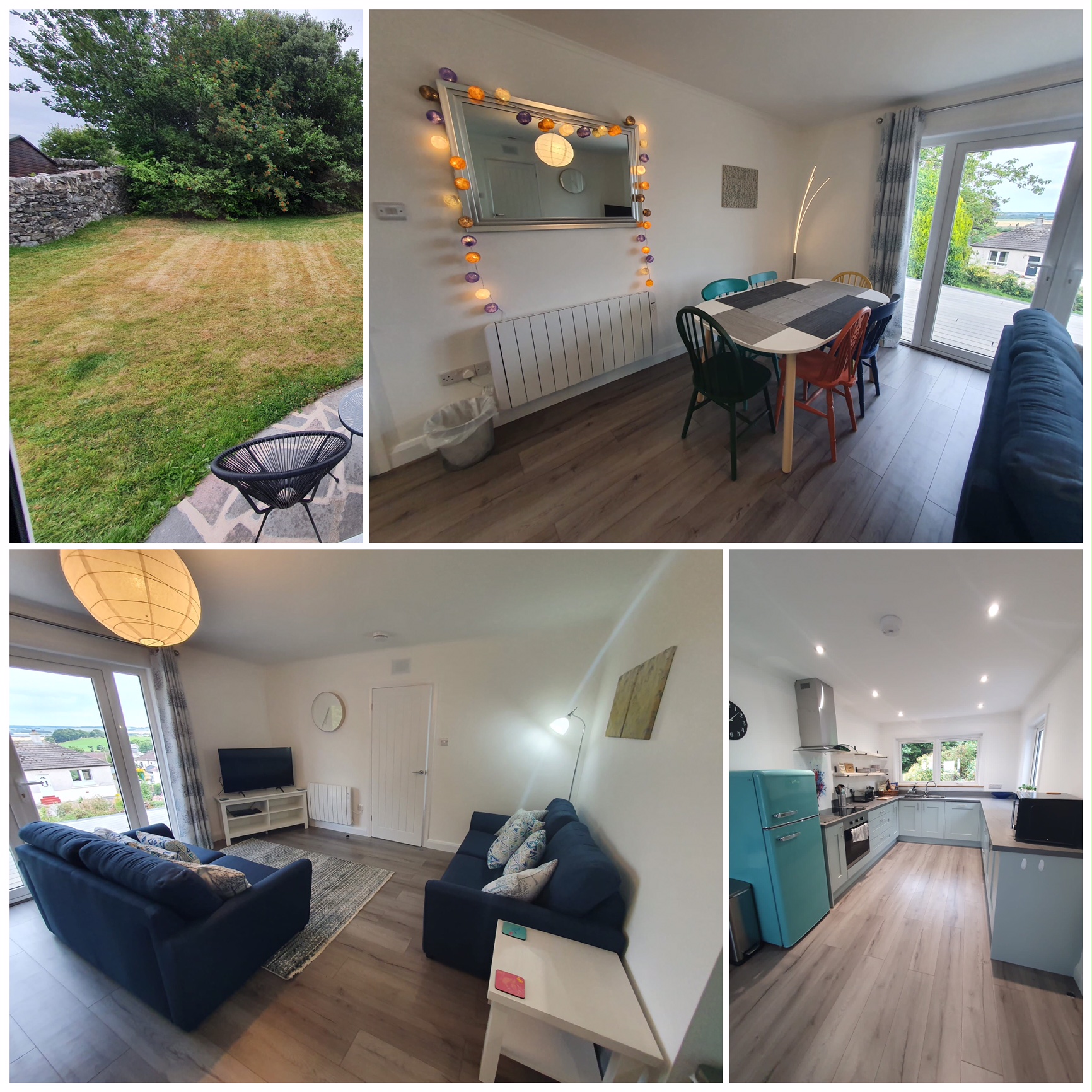 We look forward to welcoming you.
Sleeping up to 6 in 3 bedrooms, Couthie Brae is great for families, but also comfortable and cosy for a single traveller or a couple holidaying on their own
Couthie Brae has three bedrooms
All are decorated in a similar style, with very comfortable beds, light and bright furnishings and room darkening curtains for a good nights sleep.
Bedroom one has a King size bed, and an en-suite shower room.
The bed in room 2 can be made up as either a King size, or two singles.
Bedroom 3 has a small (4') double.
We have one full bathroom plus 2 shower rooms, very useful when you've been out all day cycling or at the beach, and no queuing in the morning either!
We welcome dogs and have made the house and garden as dog-friendly as possible. The back garden has been fenced off from the front garden with gates either side of the house , and we have provided a portable barrier for the top of the front decking steps for extra safety.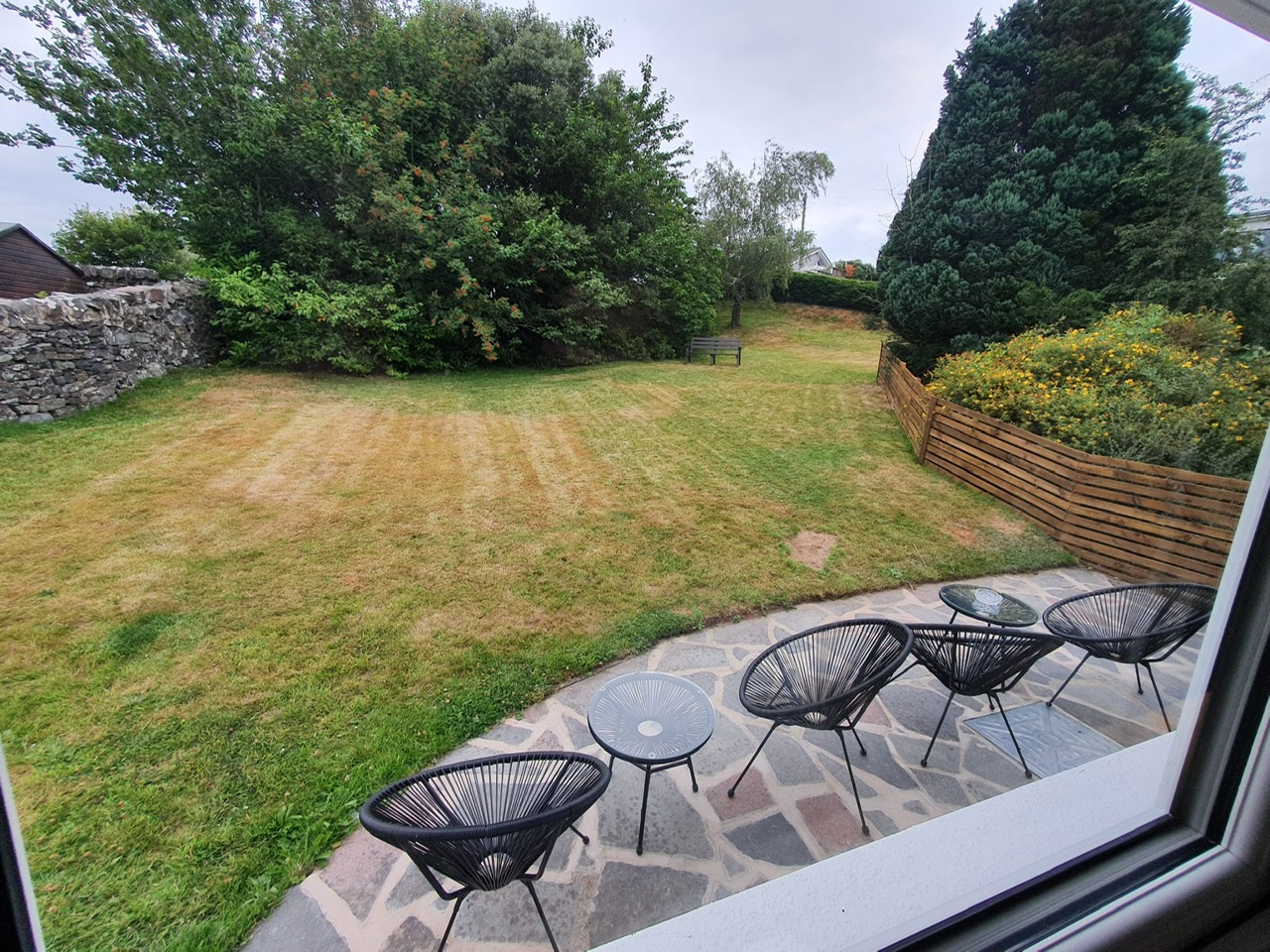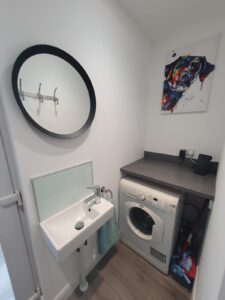 There is a washing machine next door to the shower room in the utility area. This also leads to our secure bike storage accessed both from inside the house, and also from the drive through the wooden garage doors. An outside tap and hose are also supplied for muddy bikes, paws and boots!
Our kitchen is bright and modern with induction hob, electric oven, dishwasher and fridge freezer. There is also a Nespresso machine and a slow cooker, in addition to the usual toaster, kettle and microwave. Free WiFi and a smart TV with Freeview are provided too. There are books, games and toys in the hall and plenty of room to store coats and shoes. Couthie Brae is kept warm and cosy with electric radiators, and there is a plentiful supply of hot water. All bedding and towels are also provided.
Reviews
Please read what our guests have said about us…..
Blackberries….
Just wanted to compliment you on the property - it's very well equipped and the garden is wonderful - I have been 'planning' what I would do with it whilst our dog is ODing on blackberries. Mums already imagining what we can do on a longer stay…. thank for the opportunity to share it. Blackberries are very good and we are taking some home for a crumble this evening. Thanks again for the use of Couthie Brae and hope we will be back before too long. I did enjoy the stay very much.
Immaculate
This bungalow is immaculate. It felt clean and welcoming as soon as you stepped through the door. When the weather took a nose dive we were more than happy to stay in and play games as it was like a home from home; very comfortable. We are a family of 4 and a grandparent also came with us. We put an inflatable bed in the lounge and there was plenty of room for it. 3 toilets and no queues...... also a bonus! The kitchen was well equipped and the nespresso machine was fantastic. It was lovely to sit in the large garden round the back having a coffee in the afternoon sun. I can highly recommend Nicole's dinners next door at the B & B, particularly the sticky toffee pudding. Couthie Brae is such a lovely homely place with stunning views and only a 30 second walk to town. I wouldn't hesitate to recommend it to anyone. I hope you've had plenty of bookings Hilary. You should be proud of yourselves
Perfect base
The bright, airy and modern accommodation at Couthie Brae provides the ideal base from which to to explore the delights of the Dumfries and Galloway region. The property is conveniently located in the heart of Wigtown, with a selection of cafes on the doorstep and there is a variety of beautiful coastal walks around the nature reserve to be enjoyed at leisure. As a family, we found the spacious bungalow well equipped with everything we needed to enjoy our holiday (and super comfy beds). The kitchen had all new appliances and was very well stocked with crockery, glasses and cooking utensils. The two shower rooms and family bathroom, along with the utility area were ideal for family living and provided areas to store and dry our beachwear and out door wear. The wraparound garden was lovely with a great terrace offering stunning views to the sea and the perfect spot for a morning coffee and a sundowner glass of something chilled. We also enjoyed a BBQ in the back garden. We had such a lovely week in Wigtown and Couthie Brae was the perfect base. You've done an amazing job on the renovation. It's perfect in every way and has a lovely feel about it. I couldn't believe that you've thought of everything to make the stay there really comfortable, even a hairdryer and Tupperware (the two things I forgot) were there! Couthie Brae is certainly somewhere we would like to visit again in the future.
We certainly wish to return
We stayed for a week at Couthie Brae...so appropriately named for its comfort and uplifting aspect over the gently rolling hills to the west. We were in awe as we walked through the door and took stock of the facilities which were ours for the week starting with a very generous Scottish welcome pack. The lounge, kitchen diner was the hub when we were all together accommodating those who wanted to loll on the comfy sofas and gaze over the hills or watch television whilst others prepared food in the most up to date kitchen with ample space and generously stocked drawers with cooking utensils. There were six of us, so three bathrooms were a godsend, and the beds extremely comfortable. The decor and accents throughout are refreshing enabling us to feel so at ease and at home whilst there. We made good use of the front patio as the weather was so pleasant, such a restful space for catching up with loved ones. We certainly wish to return. Thank you.
- Rae and Steve, August '21
All we needed for a great stay
We had a great time in Wigtown. Being centrally located we were easily able to access all the areas we planned to - Mull of Galloway, Portpatrick, Gatehouse of Fleet as well as the Galloway Forest. The premises were spotless and had all we needed for a great stay. The house being a minute's walk from the Co-op, the numerous book shops Wigtown is known for - as well as the all important coffee shops - made it perfect for us. Thanks again for being great hosts. We look forward to visiting Wigtown again.
…we wanted for nothing…
We have returned to the world of bustle and noise. It has been a shock to the senses after the peace and quiet of Galloway. Our stay at Couthie Brae was wonderful. It was so peaceful and comfortable. We wanted for nothing and all of the equipment worked perfectly. From the welcome pack on arrival to our departure everything was just fine. Thank you very much indeed
- Eric and Pauline, June 22